Pine Straw Information
Pine trees are not destroyed with the harvesting of pine straw. The pine trees remain in place for years to come.
By forming a thick and interwover blanket, pine straw helps to retain moisture and inhibit weed growth.
Pine straw does not wash away or float like other mulches and holds to slopes much better; therefore it helps prevent erosion.
Pine straw has a pH of 3.9 to 4.4 and does not change the pH of the soil.
Being a "dead" material pine straw does not leach nitrogen from the soil, contribute to the transfer of plant diseases and insects, or contain any dangerous chemicals or dyes as some other mulches do.
Pine straw has a great natural look that makes it attractive for all types of landscaping.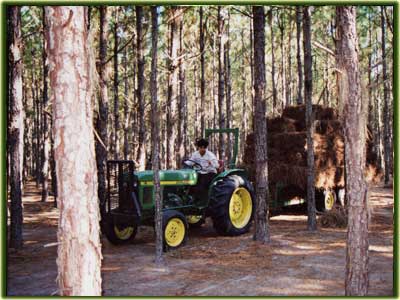 FAQ's
Yes, we deliver full tractor-trailer loads throughout the United States.

Although we do not deliver partial loads, we do work with two companies that specialize in partial and split loads of pine straw, mulch, and soil products. Contact us for details.

If you would like to keep a trailer on site year round and use 10 trailer loads a year, we can drop the trailer at no additional charge. If you use less than 10 trailer loads per year, or if you only want one trailer load, we can drop the trailer for an additional fee.

Yes, if you have your own truck and trailer or if you want to contract out the transportation, you can pick up the straw yourself. Pick-ups are by appointment only. The tractor trailer would come into our Mayo, FL yard and our crew would transfer the bales from one of our trailers onto your trailer.

Unfortunately, there is no standard bale size. We bale a 13"x12"x27" (2.43 cubit ft.) bale that loads 1386 bales on a 53' trailer. We also bale a 13"x12"24" (2.16 cubit ft.) bale that loads 1638 bales on a 53' trailer. This size bale can also be palletized with 48 bales per pallet. A 53' trailer will hold 26 pallets (1248 bales). Generally, in the winter and spring, when the straw is the freshest, the bales will expand when they come out of the baler and measure 1" bigger. During the summer and early fall, then the straw tends to be dryer, the bale will measure the same size as the baler.

Late fall through early summer is the best time of the year to get the freshest straw. Just like the leaves on a tree, the pine straw only falls once a year.

Generally, as soon as you have the leaves cleaned up on your property it will be the best time of the year. This will vary from property to property depending on the type and age of trees on that property.

We bale both slash and long leaf pine straw. The slash is available year round, and the long leaf is currently available only six months out of the year (December – May).

Both slash and long leaf are considered "long needle" pine straw. Loblolly is considered "short needle" pine straw.

We do have an installation division that is based out of our Atlanta location. These crews will travel throughout the South East. However, to offer a competitive price, we usually need to install approximately 3,000 bales to travel out of town. Within the Metro Atlanta Area, we have a minimum order for installation of 300 bales.